Bride and Bridesmaid Accessories with Vintage Flair
Even if a wedding doesn't have a full-blown vintage theme, classic elements will never go out of style. Here's how to use vintage pieces when outfitting a wedding party.
Vintage is "in" everywhere: fashion, interior design, even cutlery–so why not incorporate a little into a wedding? Even couples who may be nervous about having a theme wedding can use vintage pieces as accessories without going over the top.
Vintage Jewelry
Jewelry is an easy way to allow gorgeous vintage pieces to mingle without making a huge statement. Vintage jewelry can be found everywhere, so it's handy to have a good idea of what style or era of jewelry to shop for. Here's a rundown of some classic styles that could easily make the cut as wedding accessories: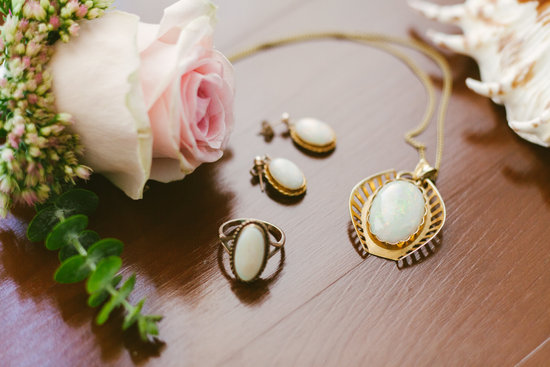 1900's. The Victorian era revealed in colors like ruby, sapphire, opal, and ebony jet. Coordinating necklace, earring, and bracelet sets were popular, although one of these pieces is enough to make a substantial statement. Shop for cameos, pendant necklaces, and intricate metal cuff bracelets.
1920's. Vibrant colors like peacock blue, deep dark red, and emerald green celebrate the Roaring Twenties' adventurous, glamorous side. The Art Deco movement meant that geometric floral shapes and angular graphic designs were all the rage. Look for chandelier earrings, cocktail rings, and long strands of pearls.
1950's. In colors like turquoise, coral, and purple, vintage mid-century jewelry suits a lively summer wedding. Look for unique items such as pearl chokers, delicate brooches, and gilded cuff bracelets.
Vintage Headpieces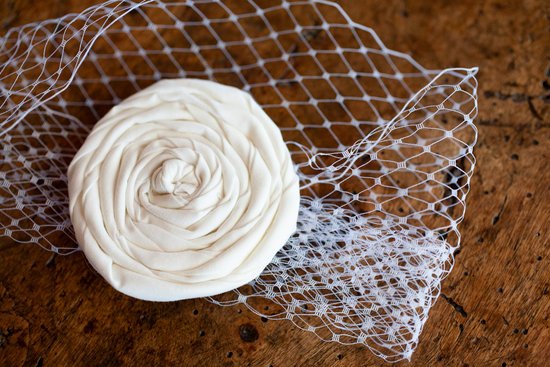 Headpieces are a way to make a dramatic vintage statement. These veils, hats, and other pieces are not for the faint of heart, but when used tastefully can add an air of sophisticated style to any wedding party.
Birdcage veils. Reminiscent of film noir, the birdcage veil is a very short veil that lies either just under the cheekbone or the chin. Paired with a delicate headpiece, pillbox hat, or a comb, the birdcage veil is an elegant way to blend a vintage look with contemporary style.
Feathered headpieces. Feathers work in weddings from formal to funky and hearken back to the high-rollers of the 1920s, or the romance of the Victorian era. Check out etsy.com for handcrafted headbands trimmed with feathers.
Hats. This often-forgotten accessory has had a rich history. Consider outfitting bridesmaids with a close-fitting 1920's cloche or a dramatic wide-brimmed hat.
Vintage Gloves
Once an essential part of an outfit, gloves are a great way to add some refined elegance to a wedding party wardrobe. Antique gloves can be found online in the wrist- to bicep-length. For strapless gowns, go with a longer glove; for a cap or short-sleeve gowns, stick with shorter gloves that end before the elbow.
Where to Find Vintage Wedding Accessories
It's best to start looking for vintage pieces to use for accessories well ahead of the big day. This ensures that there is time to return the piece if it is in poor condition or won't work with the outfits, and to spruce up any jewelry that could use a little polishing.
Search for vintage accessories online, at antique malls and shops, at estate sales, and at thrift stores. Etsy.com, vintagejewelryonline.com, and absolutelyvintage.net are some places to start looking online.
Vintage elements in a wedding don't have to end with fashion accessories: they can be used as wedding centerpieces, invitations, reception decor and more.